Frankfurt's Red Light District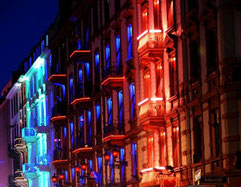 Frankfurt is a city of contrast - The Bahnhofsviertel has got a special flair and is located in the middle of the city, right next to the main station. While it once was a very elegant area to live in Frankfurt, with lots of beautiful buildings from the Gründerzeit period, parts of it has been turned into a problem area with prostitution and drugs. But the past few years, the Bahnhofsviertel becomes more and more a desired area to live and work.
Nowadays the red light district is still there, but also lots of students, creatives, art galleries, a few upscale hotels, restaurant and bars. Besides that it is one of the most international districts in Frankfurt. No matter what exotic thing or food you want to buy, the chances are good to find it there.
On this tour we will explore this district. Much more than facts and figures, it's about the atmosphere there ... Shady, Erotic and Exotic!
Maximum of 25 participants per group
Duration: 1,5 hours